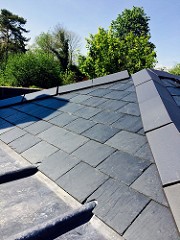 One of the biggest expenses a homeowner has to deal with is roof repairs. If you own your home long enough, you will need to replace it with a new roof. Here are four signs it may be time to talk to a roofing expert about a brand new roof.
Age
While damage may be caused by storms, older roofs often need to be replaced rather than repaired. Depending on the type of roof you have, you may need to have it replaced after 20 or 25 years. Even though timely repairs can extend the life of your roof, in time the only option will be a new one.
Curling, Buckling or Missing Shingles
Take the time to inspect your roof. If you notice the shingles are curling or buckling or you see a significant number of missing shingles, it's likely that your roof is at the end of its life. They get brittle as they dry out in the sun. Pay special attention to the valleys in the roof. Missing shingles in this area will lead to leaks, causing further damage to your home.
Shingle Granules
Notice the coloring of the shingles. If you see patches that are darker than other areas, it's a sign the granules have worn away. This indicates the shingles have worn out and need replaced.
Soft Decking
Walk around on the roof. If you notice a bouncy feeling, it is an indication that the underlying decking material has gotten soft from moisture. Go into the attic and look for daylight in the roof or wetness in the insulation. This is a sign that there are leaks in your roof.
How to Tell If It is Time to Replace the Roof
Many times, these issues can be repaired rather than taking on the expense of replacement. However, if your roof is near the end of its life, you'll only be putting a temporary bandage on the problem and delaying the inevitable.
Different types of roofs have various life expectancies. For example, a cedar shake roof will last around 20 years if cared for. Asphalt shingles can last for up to 25 years or even longer. Tile roofs seldom need replaced, but the individual tiles can break. Concrete should last for as long as you own the house.
Take care of your roof to prevent other issues that cost money, such as damage to the structure of your home. A regular roof inspection can tell you when you need to make repairs or replace it. Call me for a local referral, Pam Snowden 817-690-0976.
Pam Snowden
Realty World Professionals
817-690-0976 (cell)
Image courtesy Herry Lawford/flickr.com