Despite lower inventory and increased home prices, existing-home sales slid in October for the second consecutive month according to a recent report by the National Association of REALTORS (NAR). Existing-home sales, which include recently purchased single family, townhomes, condominiums, and co-ops declined 3.2 percent and are currently on pace to reach 5.12 million units for the year, up 6 percent over last year's4.83 million unit-level in October 2012.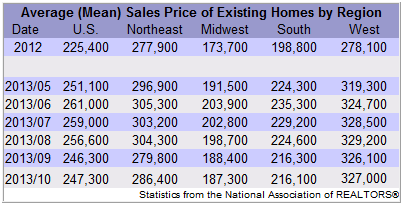 NAR chief economist Lawrence Yun sees a flat sales trend. "The erosion in buying power is dampening home sales," he said. "Moreover, low inventory is holding back sales while at the same time pushing up home prices in most of the country. More new home construction is needed to help relieve the inventory pressure and moderate price gains."
Mortgage giant Freddie Mac reported the national commitment rate for a 30-year fixed rate conventional mortgage was down slightly to 4.19 percent in October, compared to 4.46 percent in September. The reported rate was 3.38 percent in October 2012.