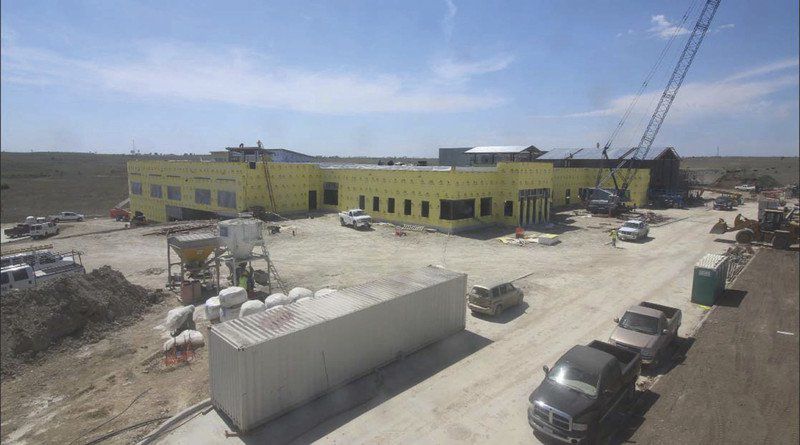 Aledo ISD's Mary D. and F. Howard Walsh Elementary School is on track to open Aug. 11, according to the project's managers at an Aledo ISD board of trustees meeting.
"Things are going well. It's not been raining, it's been warm. Overall, we're very happy with the progress we've made in the last month," said Derek Herschberger, one of the project managers.
Delays due to bad weather put construction slightly behind schedule, but recent warm, dry weather allowed crews to make progress on the building's roofs, Herschberger said.
"The key goal for us right now is to get the building closed in and completely wrapped around, and get the roof completely finished," he said. "Once we get those two things, we'll have a lot more control."
Roofing is about 60 percent complete, with roofing complete for the two-story area. The other two areas have roofing drying in this week, Herschberger said.
All of the building slabs and structural steel has been installed, and framing for the interior of the second floor is expected to be complete within the week.
With the exception of the west driveway, drive B, all paved driving areas are complete, Herschberger said. It should be finished within three weeks.
Sheet rock will go up on the second floor within the next two weeks, along with exterior bricks.
With the gym exterior scheduled to be finished in two weeks and more interior framing to be done in three weeks, Herschberger said the project managers would call regular meetings to ensure construction stays on schedule.
"We're going to start having monthly meetings with the owners of these companies that are involved. We've had a lot of planning and coordination meetings," he said. "Our completion date right now is Aug. 11, based on what our schedule shows."
To see real time progress on Mary D. and F. Howard Walsh Elementary School, visit https://app.oxblue.com/open/carrollisd/aledoisd5.