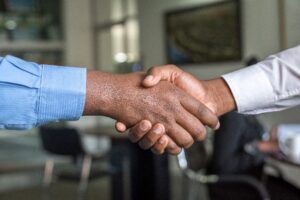 Overall, in 2022, we were in a seller's market meaning there were more buyers searching for homes than there were homes available to sell. Because of this, there is still some pent-up demand as we head into the spring market. As homes begin to hit the market for the busy spring season, homes that are priced competitively and in good condition are likely to sell very quickly.
If you are in the market to purchase a new home in the coming months, you will want to be prepared so you can act quickly when you find the perfect home. Here are some things you can do now to help you be ready when the time is right.
Meet with several mortgage lenders and select the one that can provide you the best mortgage terms for your situation. Once you select the mortgage lender that is best for you, go ahead and get preapproved. When you find your dream home, providing a copy of your preapproval letter along with your offer to purchase may help your offer stand out in case there are multiple buyers interested in the same property. Some sellers will require you to show a preapproval letter, which may enable you to move faster while other buyers are calling lenders and trying to figure out which mortgage is best for them.
Once you are preapproved, it's time to start looking at homes. Now that you have met with a lender, you can confidently look at homes knowing what you can afford. Before you actually look at any homes, make a list of your priorities to help you focus while you shop. It is very easy to get caught up in the process of looking for a home and fall in love with a beautiful home that doesn't meet your needs. Things to consider are the number of bedrooms and bathrooms, amount of land, garage, style of home and the location. Having a specific list of criteria you are looking for will not only keep you from wasting time looking at homes that don't meet your needs but also allow you to narrow down the selections when you are viewing homes.
As soon as you start looking at homes, go ahead and ask your real estate agent for copies of the contracts you will need to complete when you find the right home for you. When you find the right home, you may need to act very quickly and familiarizing yourself with the contracts (and asking questions of your agent ahead of time) will allow you to move forward more quickly and with less stress when you find the house for you.
Another thing to consider when preparing to buy a home is your overall household budget. Now is the time to get this in order not after you own the home. Just because a lender says you can have a mortgage for a certain amount doesn't mean you have to spend that much money. Make sure your mortgage amount will fit into your overall budget along with the other items you allocate monthly funds too without leaving you feeling anxious each month.
Taking all of these steps in advance will make the homebuying process much faster and smoother for you. The most important thing you can do is ask questions and educate yourself so you can make good decisions when the time is right. Contact me today at 817.690.0976, I would be happy to answer any questions you have about finding your dream home!
Pam Snowden
Realty World Professionals
817-690-0976 (cell)
Image courtesy of tkoch/pixabay.com