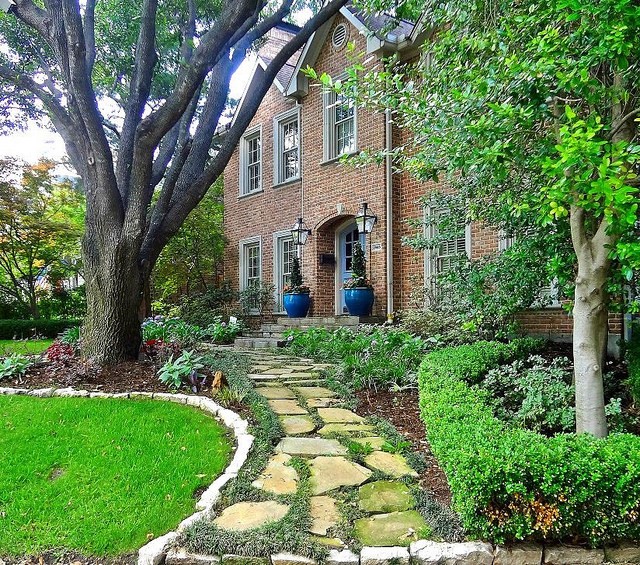 Have you considered your home's curb appeal? When you are selling your home, curb appeal creates that first impression that the buyer carries throughout the time they spend touring your house. It can make or break whether a buyer even decides to tour your home or not. Sellers need to do all they can to make a home's facade the best it can be.
Curb appeal clues the buyer in to what life might be like living in your house, so taking care of these things now are a priority. The big things are obvious: mow regularly, make sure exterior paint isn't peeling…but once you've done all that, there are some small and inexpensive curb appeal improvements that make a huge difference.
Make sure the path from your buyer's car to the entrance is free of kid's toys, lawn care items, fallen twigs or other debris. Stepping over or around items detracts from the flow of the tour right at the beginning.
A fresh coat of paint makes a door look brand new. Once the impression of "new" or "well-kept" is formed in the buyer's mind – that impression sticks with him or her throughout the rest of the house.
A manicured lawn gives the impression of a carefully tended home. Grass creeping over the sidewalks doesn't necessarily look sloppy, but an inch or two of space between the lawn and the sidewalk makes the entire yard look neat and well-kept.
Thin out plants that are creeping into the zone of other plants. Landscape style is trending toward openness and even minimalism, so space between plants and shrubs gives that airy and clean appearance that buyers value.
Add color. Bright flowers can do wonders for the facade of a home, drawing the eye where you want it. Work a few blooms into the landscape if you can. Or, if you don't want to go digging, use strategically-placed planters and hanging baskets to greet your buyers.
Bring in new mulch. Mulch fades with time, giving landscaping a drab gray base. Bright mulch creates contrast with the colors of flowers and shrubbery, giving them a healthier and more appealing appearance.
Consider taking the time to complete these tasks if you are planning to sell your home. You'll be amazed at the difference you can make in such a short time, and what an impact your home will have on potential buyers. Contact me today at 817-690-0976 for a consultation. I will be happy to answer any questions you may have, and/or help you determine the value of your home.
Pam Snowden
Realty World Professionals
817-690-0976 (cell)
Image courtesy of Briget Murphy/Flickr.com