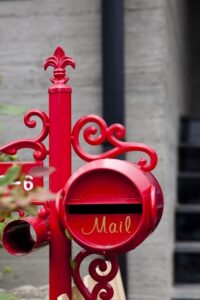 Do you ever need to know when something specific has arrived in your mail? The United States Postal Service has created a new service to help you know exactly what is arriving in your mailbox and when by providing you daily scanned images of your incoming mail.
Start by visiting the Informed Delivery® website to confirm the service is available in your area then create an account and verify your identity. Once you have signed yourself up you will receive daily emails or text notifications, or you may login to your USPS dashboard to view the images of your incoming mail. Images are only provided for letter-sized mail items that are processed through the automated mail equipment, so you likely won't know everything that is coming but you will receive previews of many items.
It is also possible to get information regarding packages that are on their way to you. Package information is not provided as scanned images but as key package details including a tracking number, shipper's name and estimated arrival date.
Receiving this image in advance also enables you to update delivery instructions or reschedule delivery if you would like to. If you expect to receive a package and you will not be there at the anticipated delivery time, you may adjust the delivery instructions. Likewise, if you miss delivery of a package, you may reschedule delivery, so you can make arrangements to be there.
This service won't show you everything that will be waiting in your mailbox because of processing limitations but will likely provide you a good idea of what to expect and help you make arrangements if needed when you can't be there. Because this is a very new service, there are likely to be many questions and the USPS has answered many questions here.
If you travel frequently, this will be a great way to keep up with your mail when you are away without having to rely on a neighbor or friend to give you updates. If you sign up for the service today, you should start receiving notifications within a few days. What do you think of this service? Do you plan to try it?
Pam Snowden
Realty World Professionals
817-690-0976 (cell)
Image courtesy of heungsoon/pixabay.com