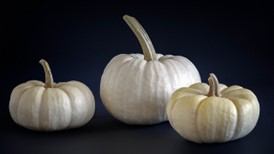 If you're the type of person who likes to decorate for every holiday but you want to try something more grownup and modern, here are a few ideas to prepare your home for Halloween this year. Whether you're expecting the neighborhood kids, hosting a grownup party or just want to get in the spirit, these suggestions are fun and easy to do. Plus, they make your home look festive to buyers if you're selling.
White Pumpkins
Put a modern spin on the traditional pumpkin by painting it white. Regular craft paint or spray paint will work. Paint three or four pumpkins or gourds and arrange them together with pinecones and other fall items. This adds a sophisticated touch to your front porch or entry. You can also go with all black or all gold or mix it up with a pumpkin of each color.
Halloween Tree
Make your own variation of The Nightmare Before Christmas tree. Take a tree or just a branch and paint it black. Hang bats, pumpkins and other scary creatures from the branches. This makes a fun welcome by your front door, in an entry or even as the focal point for your living room.
Decorate in Black and White
Instead of the traditional orange and black colors for Halloween, use black and white for a more grownup look. White candles with black votives or white flowers in a black vase add an elegant touch to any table. Serve all black and white foods for your holiday party (or open house). A black and white striped tablecloth will draw attention and continue the theme.
To create an unforgettable centerpiece for your table, spread white spider webbing around candles and across the table. Place a silver tiered tray in the middle with gourds spray-painted black displayed on each tier. To make your design stand out even more, you can add a small touch of orange with a few strategically-placed items.
Halloween doesn't have to be just for kids. If you love to decorate and change your décor based on the season, these ideas will create a fun yet sophisticated space that both you and your visitors will enjoy.
Pam Snowden
Realty World Professionals
817-690-0976 (cell)
Image courtesy Joe deSousa/flickr.com