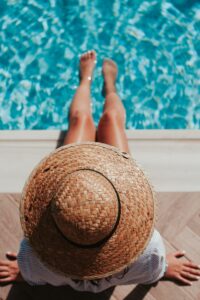 Many people enjoy nothing more than a trip to the pool on a hot summer day. Swimming, lounging, playing water volleyball or getting in a full body workout are all great ways to use a pool. The idea of being able to walk out your back door and dive in the pool can be very enticing but there are pros and cons to becoming a pool owner so how do you decide what is best for you?
First, let's start with the fun parts of installing a pool in the backyard. No more treks to the neighborhood or community pool with chairs, sunscreen, snacks, drinks, towels and floats. Don't worry about forgetting anything either because if you do, just step inside and grab what you need. For convenience, the backyard pool gets major points.
If you are looking for an easy way to work out without having to leave the house, few exercise programs offer a full body workout like swimming without an entire room of equipment. You can get a great workout with just goggles and a bathing suit and not have to worry about what time the gym closes each day. This is definitely another win.
Pools can also be a great place to hang out. If your kids are always bored or you like to have friends over on the weekends, the pool will offer instant pleasure for kids and adults alike.
So far, it all sounds like fun but there are some negatives as well. The pool will require some extra work for maintenance and this doesn't come without an expense. Even if you take care of pool maintenance yourself, it won't be cheap. First, you will have to pay for water to fill it and keep it full, chemicals to maintain the balance of the water, equipment to keep it clean and possibly a cover or other accessories.
Add in chairs for the pool deck, towels for you and your guests and things can add up quickly. If your yard wasn't already fenced, your insurance company may require this and your insurance premiums will likely increase as well because of the added liability of the pool. If you decide to install a pool heater to increase the amount of time you can use your pool, this will be an added expense as well.
While a pool party is lots of fun, it can also be dangerous if people aren't acting responsibly and there isn't enough supervision. Children should never swim unsupervised even if they are strong swimmers.
Pools can create a challenge when it comes time to sell your home down the road. Many people aren't comfortable with having a pool in their backyard so they will not consider your home. There will be some people just like you that find the idea of their own pool exciting that will be interested in your home but you are extremely unlikely to get much of a return on your investment.
Don't make this decision quickly or lightly. Take your time to weigh the pros and cons and make sure a pool will add enough benefits to your lifestyle that you don't mind the added risks. Contact me today at 817.690.0976 for a consultation. I will be happy to answer any questions you may have, and/or help you with the home buying process.
Pam Snowden
Realty World Professionals
817-690-0976 (cell)
Photo by Angelo Pantazis on Unsplash